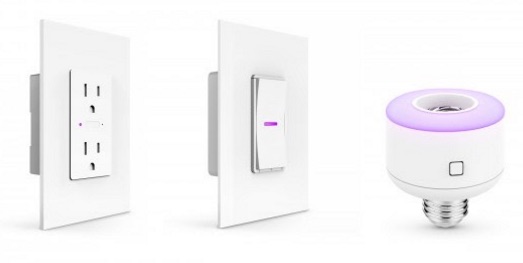 Every year at the Consumer Electronics Show in Las Vegas new electronics are debuted for the consumer market. Over the past couple of years we have seen more and more devices rolled out allowing for homes to become increasingly wired. This years MacRumors reported that iDevices was releasing not only more devices built on the HomeKit platform to adapt home plugs, light switches and lights but also devices to replace traditional wall outlets and wall switches. I like the idea of actually replacing existing outlets and switches with wired ones instead of just mounting a large bulky device onto the existing plug or switch. I am sure devices like this will eventually become commonplace in all new builds allowing users to connect any plugs or switches to their wifi networks truly making homes more accessible.
iDevices Socket – This socket allows homeowners to control their standard light bulbs from anywhere using the iDevices Connected app. The iDevices Socket features dimming functionality and a customizable LED nightlight for changing the light color and adjusting the brightness. The iDevices Socket launches in Q1 2016.
iDevices Wall Switch and Dimmer Switch – These connected wall switches enable users to control their home's lighting from anywhere using the iDevices Connected app. The accessory can function as both a standard on/off wall switch or as a dimmer switch, and each feature customizable LED night lights to locate them in the dark. The switches will be available in Q2 2016.
iDevices Wall Outlet – The iDevices Wall Outlet is a hard-wired version of the iDevices Switch, and provides users the ability to control, monitor and schedule power to both outlets individually using the iDevices Connected app. The iDevices Wall Outlet will be released for sale in Q3 2016.
iDevices Connected App – The free companion iDevices Connected app enables users to add iDevices products to their home network, securely pair them with their iPhone, iPad or iPod touch, add them to a room, set dynamic schedules and add custom photos and names. The app also supports HomeKit-enabled products from other manufacturers like iGrill.