Last night I attended the new COC production of The Marriage of Figaro. This was not my first Figaro having seen one years ago so I found myself trying to understand what was the intention of the director, Claus Guth. The curtain arose on a grand staircase in a Scandinavian styled room in a grand house that had seen better days. The set consisted of a set of doors and one window off to stage right that bathed everything in a bright Scandinavian light. The costumes were all dark giving the production the feel of a Strindberg play or a Bergman film. Watching these dark costumes against the stark walls, the audience was left wondering, why? What did the dramatic costumes and whitewashed set tell you about the action in the opera? Throughout the evening choices made by the director left me wondering what was he trying to say? There was an odd black bird, an Escheresque like set in act four and doors opening and closing throughout the piece that never added to the dramatic action on stage.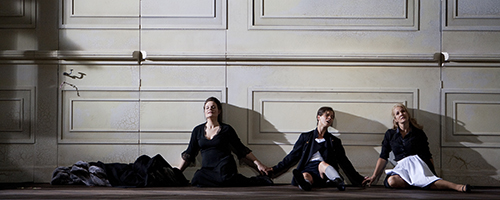 Added to this was the addition of a new character, a non-speaking part, Cherubim played by Uli Kirsch. The changes between acts and sets never varied from the rooms of the Scandinavian styled house. We moved from room to room without any real dramatic force or energy. This was made more apparent by the time it took to change sets while the audience remained in their seats. These delays are borne with ease when the resulting changes are dramatic and beautiful, sadly, Christian Schmidt's sets and costumes never really gave us that wow factor.
The singing not surprisingly because Figaro is an ensemble piece was uneven and seemed to warm up only as the evening progressed. Josef Wagner's Figaro while bright and crisp never had any real heft or presence on the stage and missing was Figaro's sense of humour. Indeed the humour and lightness which makes Figaro such a fun opera was missing save for the antics of the added character Cherubim. The idea was that Cherubim as cupid directed the action of the characters in the opera, and while he did have some really cute interactions, especially when writing on the walls with light, too often he became a distraction rather than a strength.
The best voices of the evening were the women. Erin Wall was wonderful as the Countess, almost bringing down the house with her arias. As was Emily Fons' Cherubino who made us all believe in his power to enthral and seduce with his voice. One pleasant surprise was Sasha Djihanian'a Barbarina. The part is small but her voice was strong and powerful filling the hall with a crisp beauty. Overall while I enjoyed the evening Guth's interpretation gave the piece a heaviness that is not reflected in the light, playful score written by Mozart.