Yesterday after making our way to Kensington to pick up our dry goods and veggies for the week Mr.T and I walked up to New Canadians Lumber on Dupont to pick up a sheet of privacy screen for the old shed pergola. When we took down the walls of the shed earlier this week the trellis behind the fountain looked kind of bare. Thinking about it I we decided it would be nice to add a privacy screen behind it just to give the area a little more weight.
Because we don't have a car we decided to walk the 4'x8' screen home with Mr.T holding one end and me the other. While it was difficult to carry we made it home without killing each other and installed the screen behind the fountain. We had to cut it down from 8' to 7' and added some 1"x1" trim just to give it a more finished look but it really helped define the area.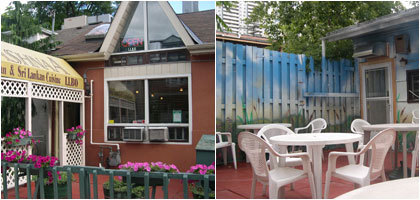 After relaxing for awhile we walked over to Church Street to check out the booths and some of the Pride activities away from the Dyke March happening on Yonge Street. We met up with one of Mr.T's colleagues from his Vancouver office Mr.D and his partner Mr.J and explored everything that Church Street had to offer. For dinner we walked over to our favourite Toronto restaurant Rashnaa to introduce Mr.D and Mr.J to Sri Lankan food. As usual the food was delicious. After dinner Mr.J wanted to explore Cabbagetown so we walked around a bit before heading back to Church Street where we left Mr.D and Mr.J before we made our way home.