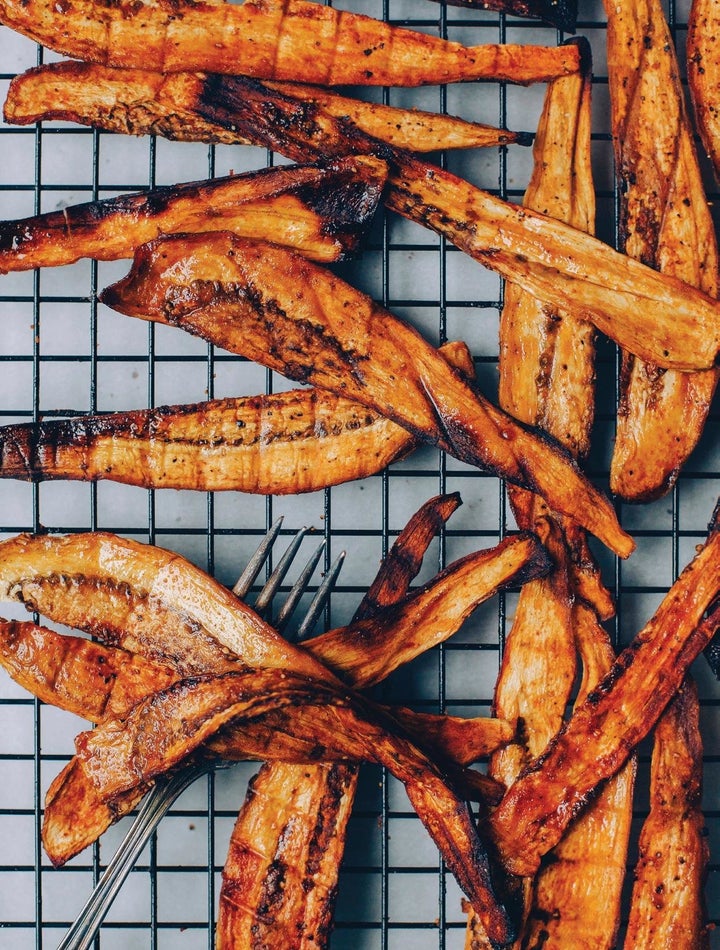 A couple of days ago I discovered this recipe on Yummly for eggplant bacon and decided today was the day to try it. Even though I am not a big breakfast person, primarily because I can't eat anything on a regular breakfast menu, I had a Japanese eggplant that was starting to go off, so I thought it would be the perfect way to use it. Although I didn't have any miso, I followed the rest of the recipe and it came out really delicious. I need to make this more often.
1
tablespoon
virgin olive oil
1
tablespoon
pure maple syrup
1
tablespoon
apple cider vinegar
1
teaspoon
smoked paprika
1
/
2
teaspoons
gluten
(free tamari soy sauce)
1
/
2
teaspoons
light miso
(or mellow)
freshly ground black pepper
(to taste)
Preheat the oven to 400°F (200°C). Set a cooling rack on top of a parchment-lined baking sheet.
Cut off both ends of the eggplant. Then, with the cut bottom end flat on the cutting board, cut the eggplant down the middle. Lay each half, cut side down, on the board, and slice into 1/4-inch (5 mm) strips.
In a large colander, layer the eggplant strips, sprinkling liberally with sea salt as you go. After you finish the layering, let the eggplant sit for 15 minutes. I usually set the colander over a plate or in the sink to collect the liquid escaping the eggplant.
Rinse the eggplant thoroughly. Towel-dry the pieces of eggplant, and arrange them on the rack-fitted baking sheet.
In a small bowl, whisk together the olive oil, maple syrup, apple cider vinegar, smoked paprika, tamari, and miso. Brush half of this mixture onto the eggplant strips. Season the eggplant with black pepper.
Slide the baking sheet into the oven and roast for 20 minutes. Remove the eggplant and use tongs to carefully flip over all the strips. Brush the remaining half of the oil and maple syrup mixture onto the exposed side of the eggplant. Season the eggplant with black pepper once more. Roast the eggplant for another 15 minutes or until you start seeing some crisped edges. Serve eggplant bacon hot.