Today was another beautiful, summery day, that makes three in a row, a new record. After yoga this morning I went for a bike ride down to Cherry Beach, then biked home. Because it was hot I decided to make a Mexican rice with Mexican beans and some guacamole to make some homemade burritos. I also decided to make some strawberry sorbet. I found the recipe online a couple of weeks ago from the Beaming Baker and wanted to try it. It is so easy, so delicious and so yummy on a warm, summery day.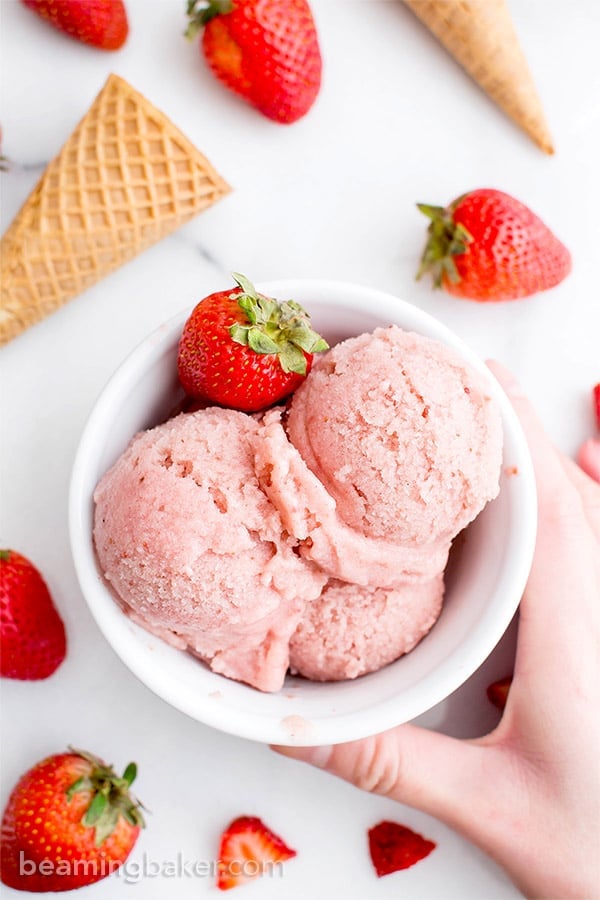 2

Bananas, Sliced & Frozen

13.5

Ounces

Coconut Milk

1 ½

Cups

Strawberries

2-3

Tablespoon

Maple Syrup
1.
Add bananas and coconut milk to a blender.
Blend until smooth, scraping down the sides of the blender as needed.
2.
Add strawberries and maple syrup. Blend until smooth, again scraping down the sides of the blender as needed.
3.
Pour into an airtight, freezer-friendly container and place in the freezer.
Freeze for 4-6 hours, stirring once every hour for the first four hours.
When stirring, make sure to scrape down the sides of the container.
Stir for about a minute each time.
Enjoy immediately! If keeping overnight, or enjoying later in the week, allow to thaw for 15-25 minutes before scooping.