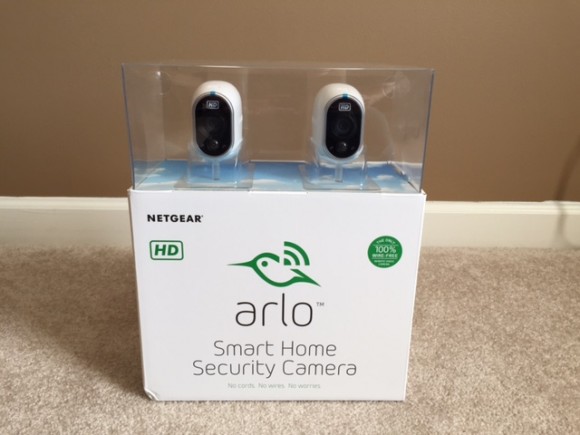 While I was in London playing nurse for my Mom, Mr.T purchased a home security system from Best Buy. We had wanted one for awhile but decided to wait for the Boxing Day sales and he was able to buy a two camera wireless system by Arlo that we planned to mount in the front and back of the house. Although we had the new system we were unable to mount it because of the really, cold, frigid weather. However, yesterday it warmed up to a manageable -14 and I decided to mount one of the cameras on the front porch.
The cameras are beautifully designed, with a white plastic case thats is reminiscent of the robot EVE from the Disney film, Wall-E. The installation was really easy. The cameras which have really strong magnets in them are held to a metal base that is basically half a sphere allowing the camera to pivot to any angle. All I needed to do was to drill one screw where I wanted the base and I was able to mount the camera on the inside of our porch and point it at the door. The cameras then connect to a wireless antennae that is hooked up to our router in the inside of the house.
Once installed the camera records movement and stores it in the cloud allowing us to monitor the front door of the house. The video and still images are surprisingly good for a wireless system. The system is really straightforward and simple to install and will hopefully provide a little more security, it notifies us by phone about any movement it detects.
Once it warms up a little more we will be able to mount the second camera somewhere in the backyard, we haven't decided where yet, to monitor the garage door in the back of the house.